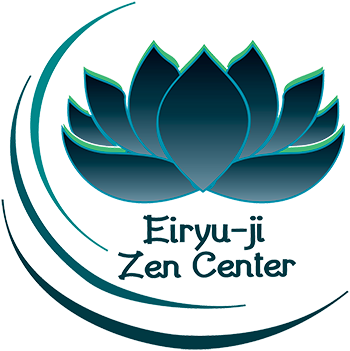 Welcome to Eiryu-ji Zen Center
We are a traditional Zen community in the Soto lineage of Taizan Maezumi Roshi.
Our center was established to provide a place for daily Zazen (meditation) practice and for the study of Zen Buddhism. We are a non-discriminating community, welcome and embrace anyone who is genuinely interested in learning more about the wisdom tradition of Zen. Our doors are open to beginners and experienced practitioners alike.
We are committed to maintaining a conducive environment for the practice of self-realization through daily Zazen, personal meetings with a teacher, Dharma talks, Buddhist studies, and intensive training periods. We firmly trust that self-realization lays the foundation for creating and maintaining a healthy and moral society.
Our practice is not intended to provide an escape from everyday challenges, but rather serves as a model by which one can engage more deeply in all aspects of life. We practice with an understanding of a busy lifestyle, and work with individuals on incorporating the way of Zen with their daily commitments and challenges.
Our teacher, Roshi Junryu, is a Zen master and a professional Aikido instructor, a Dharma successor of Roshi Paul Genki Kahn. He is the founder and director of Eiryu-ji Zen Center and Aikido of Ramapo Valley. In addition to running these centers, Roshi Junryu travels to lead Aikido and Zen seminars/retreats in the US and overseas. He also works in the corporate environment, leading workshops of mindfulness and meditation, and teaching women's self defense classes. Junryu is currently involved in Zen-based spiritual guidance. He is working with people locally and internationally, through personal meetings, Skype sessions, and email correspondence.
For more information about Eiryu-ji Zen Center please visit our dedicated website: www.eiryuji.com
Regular Zazen schedule.
Personal dialogues with a teacher
Zen retreats
Aikido-Zen training path
Zen training path
Buddhist studies and liturgy
Ordination
Monday: 7:00 pm – 7:25 pm – zazen
Tuesday: 7:30 pm – 8:30 pm – zazen and dokusan
Thursday: 5:30 pm – 6:00 pm – zazen
Friday: 9:30 am – 10:30 am – zazen and dokusan
Saturday: 11:00 am – 11:30 am – zazen
Sunday: 8:30 am – 11:00 am – liturgy, zazen, dokusan, dharma talk
Roshi Eran Junryu Vardi, Zen Master
Rev. Yvonne Myogen Vardi, Dharma Holder
Rev. Yves Kenjin Calderone, Dharma Holder

"To study the way is to study the self, to study the self is to forget the self"
  Eihei Dogen